Mobile Locksmith
Back To Our Services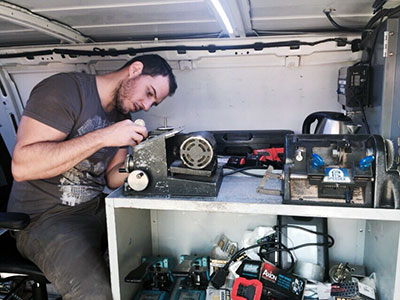 People are not robots and, therefore, when their mind is occupied with thousands of different thoughts about their obligations, they can easily make a mistake. Keys are just tiny objects and can be easily destroyed, get lost or forgotten inside the house as you are closing your front door behind you. These are everyday events that happen to many families not only in Anthem, but in most places in Arizona. On the other hand, people shouldn't let these minor problems upset their lives because mobile locksmith services are one of the most valuable tools in contemporary societies that can offer immediate assistance and solutions.
Mobile Locksmith Anthem predicted long ago the current needs since the number of cars circulating in the streets has been increased and people are forced to travel long distances in order to get to their jobs or social events. Moreover, people move around a lot today and they drive back and forward to different locations to carry on with their daily errands. If you think it's not easy to lose your keys, it means that you don't move around much. Consequently, the number of people calling in for assistance has increased, too. Do you know how many people are locked out of their house and their cars daily?
Outstanding locksmith contractor for 24/7 services!
Our company vans are found on the road at all times and they usually follow similar routes. This is part of the overall organization of our emergency mobile locksmith department, which aims to minimize the time needed to get to your location and let you go ahead with your daily program. As soon as we receive your call, the closest truck will put on the engine in order to offer you the best mobile locksmith service and put your problem to an end.
Mobile Locksmith Anthem gives great attention to its speed as well as to the personality and excellent qualifications of its associates and their equipment. We make sure the people, who will approach your locked car are trustworthy and reliable and, at the same time, they have the expertise and skills to unlock the blocked door without making further damage. When it's time to choose our locksmiths, we put high and strict criteria while we make sure that they keep training on a regular basis in order to keep up with modern technologies, which will elevate their high quality work.
A good mobile locksmith company will not only provide technical support to its clients, but be in the position of consulting and briefing them on new methods and ways to increase their personal safety or home security. A high tech security lock or the repair of the existing one can make a difference to the overall protection of one's home. The combination of our experience and knowledge with the exquisite innovations can ensure the prevention of intrusions and for this reason it is always a good idea to open the doors of your house to our locksmiths and let them close them back to the face of any external threat. You shouldn't be concerned about financial matters either because the plethora of new products would give you the chance of options according to your budget and without compromising your security.
We are an alert 24 hour mobile locksmith company that standby in the streets, so that you can feel safer and know that we can reach you in a moment's notice.